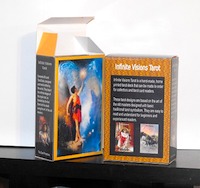 By Sheri Harshberger
Infinite Visions Tarot by Gloria Jean
Handmade and self-published by Gloria Jean, www.infinitevisionstarot.com
I was introduced to this deck at the 2011 Readers Studio by a friend who was using it (thank you, Ash Taroot!), and it was love at first sight!  

This 80-card deck is self-published in the truest sense--Gloria Jean is an artist and Tarot enthusiast, who created this deck over a 3 year period, completing it at the end of 2009.  If you doubt that she makes these decks individually, by hand, check out her website, www.infinitevisionstarot.com.  There is a photo of her at her guillotine cutter trimming a sheet of cards. She even makes the deck boxes!  
She offers her deck in a 2.5" by 4" and a somewhat larger 2.75" by 4.5" size.  The size I "met" at Readers Studio was the smaller size deck, and that is the size I am reviewing here (since it is the size I also bought for myself!).  The smaller size deck is very easy to handle and slightly taller and a bit narrower than an standard playing card deck.  Each deck comes with a card that has the limited edition number of the deck on it and is signed by Gloria Jean.  This card also serves as the Certificate of Authenticity of the deck.  The cards are not laminated but are very sturdy, yet very flexible so they are easily handled and shuffled.  They have a matte finish and look like they will wear well.
The deck follows traditional Tarot deck structural conventions with an important exception that I will get to in a moment.  Within the 80-card deck, a 78-card, Waite-Smith compatible structure of 22 Majors and 56 Minors will be found.  The Courts are represented by a King, Queen, Knight, and Page within each suit of Swords, Wands, Pentacles, and Cups.  The backs of the cards are attractively patterned and are reversible friendly.  Reversed meanings are included in the LWB.
These stunning cards are digital collages of fine art and are borderless.  I really like deck images based on collages of fine art, my every day reading business deck is The Golden Tarot by Kat Black (the older one with cards that aren't glossy and bendy), which is made up digital collage images of Medieval and Renaissance fine art.  The card titles are printed on the center top of each card.  The Majors are numbered, including the Fool, which is 0.  Strength is numbered 8 and Justice is 11.  One thing I found very cool was the artist had inserted the Hanged Man card upside down in the deck!
The exception that I mentioned earlier is there are 2 additional cards in the deck.  One is titled Dark Priestess and the other is Dark Magician.  They are not numbered as they are not part of the Majors.  They are not part of the Minors either.  It is my interpretation of their place to be that of "outsiders."  When I read cards with other decks, negative energies and people are manifested through the card combinations and all that "stuff" we all call upon when we do readings (I believe they are intended to be people, but find they can be used to expand into issues as well).  I read differently with this deck because of these 2 cards.  When they appear in a reading, they plop their dark selves amongst the other cards and there's nothing subtle about what is going on.  What I find really exciting about these cards is that I rarely use significators... and here are 2 significators of negativity built right into the deck.  Working with them has been striking to say the least--they both have a level of "in your face" that you can't get when using other cards as significators for negative people or issues.
The LWB is small but sturdy and is 48 pages, with 45 pages of text and the last 3 pages blank for notes.  The first few pages are introductory and include instructions for 1-card readings.  The rest of the pages are allocated to card upright and reversed meanings.  Additional card information can be found on Gloria Jean's website, www.infinitevisionstarot.com.
I can't recommend this deck enough!  I used it with ease at the Readers Studio for readings during an evening class when I didn't have time to get the Golden from my hotel room.  I think it would be a good deck for beginners because of its compatibility with the Waite-Smith and it could be used without the additional cards if necessary.  It's a great deck for experienced readers, and it's a great deck for any readers who are looking slightly smaller deck or one that uses fine art imagery with a stunning color palette.  I've had concerns about what deck I would use if I need a smaller deck to carry with me or if I ever have to retire my beloved old Golden.  My concerns are no more with the discovery of this deck!