By Terri C.
The Circle: A Guide for the Inner Explorer created by D. R. Taylor
Published by Versation Publishing, LLC
ISBN: 978-0-615-33675-6
My experience with this innovative deck begins with the artist edition, which some refer to as the first edition printing of this deck, about 2 years ago. To my delight, this summer I was gifted this latest edition.
The deck itself is a 54-gem ("gem" is how the artist/author refers to the cards) oracle, neatly packaged in a plastic box, along with a velvet card pouch, journal, spread sheet and 60-page guidebook.
This deck is really a find for someone who wants to do some inner exploration or someone who wants to help another on their course of exploration and they want to deviate from the path of traditional Tarot.
The artist edition was much larger and a bit of a challenge to shuffle. This second edition is much smaller and can be hand picked out of the bag, so the cast takes the focus as opposed to the mechanics of shuffling.
The Circle consists of 54 pie-shaped cards, that are to be cast in a clockwise circle to form a Mandala. Once the cards are in position, they are to be read in the following positions: Focus, Desire, Outside Influences, Inner Dialog, Challenges, Insight, Meditation and Resolution. However, the deck also proves to be incredibly insightful when used for a daily one card draw.
The deck itself is very balanced between positive, neutral and negative cards, covering the full spectrum of human emotions. The cards are small and could easily be used in a public setting, such as a coffee shop or food court in the mall.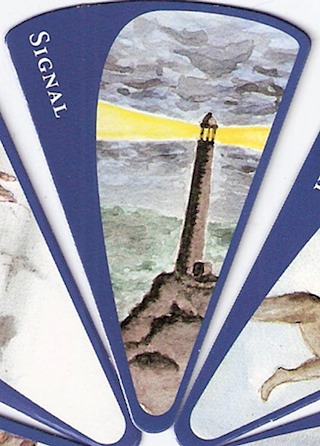 One of my favorite cards is "Signal", which features a lighthouse perched on a rocky shore, sending out its light as a beacon, underneath a cloudy sky, while rising waves race towards shore. The guidebook tells us that this gem/card is all about looking for signs, listening, sorting information and trusting guidance.
The cards are coated with a very shiny lamination and are a bit slippery. Due to their shape, shuffling does prove to be a challenge, but mixing in the velvet bag, included with the set seems and drawing out one card at a time, seems to work just fine.
This deck is a nice addition to any collection and can easily be used by the life coach, professional reader, novice or anyone that is interesting in personal, emotional exploration.