By Jeanne Fiorini
This one's a brain teaser. Some of you will love it and some of you will be very annoyed. 
Anyway, here's the deal: Set your cards out in the pattern as defined below, where I've created two "sentences" made from Tarot cards rather than words. To solve the puzzle, create a meaning for each card, put the thoughts together (just like we do when we put words together) and see what sentences are created. Punctuation is provided to guide the phrases, just like in the Cryptoquip puzzle in the newspaper. There isn't one absolutely correct answer to the puzzle, although I do have two specifically-intended sentences which I will share later. 
Let's see what happens with this little experiment. Good luck and have fun with it!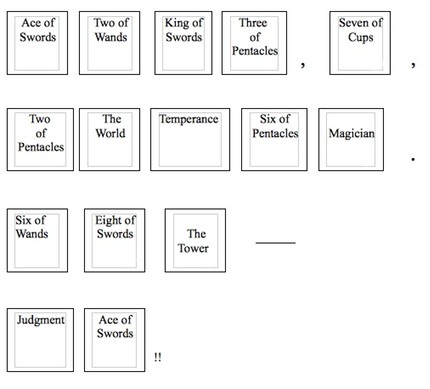 When you come up with something that sounds like a phrase or paragraph, post it in the "Comments" box below and we'll see what might be spelled out here.
Thanks for playing along, I hope you enjoyed this exercise. If you didn't, I promise to have something more like a real article in next month's edition of Reflections.
EDITOR NOTE: This is cool and we are going to liven things up a bit. We are going to offer a choice of new deck from Jeanne's favorites: a new Mythic Tarot, Golden Tarot (by Kat Black), or Transparent Tarot by Emily Carding. Here's the way it works: the winner will be selected at random out of a pool of those persons who post a try at the puzzle above. The answer does not have to be correct! This is about having some fun with the cards :o) The answer will be posted in the December issue of Tarot Reflections! Have fun!