With Halloween just around the corner, I wanted to create a tarot spread for the occasion. I knew early on that I wanted the layout to look like a Jack-o-lantern, and finally settled on a trick or treat theme.
I wanted the "eyes" to be the tricks, thus using the cards to open my eyes and expose the tricks. That left the Jack-o-lantern's mouth for the treat cards. Several days of trial and error later, I finally came up with the following questions for each position:
1. How am I tricking others?
2. How am I tricking myself?
3. How can I treat others better?
4. How can I treat myself better?
5. How can I shine?
The last question (the horizontal card at the bottom of the mouth) is where a jack-o-lantern's candle shines brightest. If you use reversals, you'll need to decide for yourself how to tell if that card is upright or not. One way would be to read it whichever way it's drawn; I chose to read it as upright regardless of how it landed in the spread.
To demonstrate this spread, I couldn't resist using the Halloween Tarot.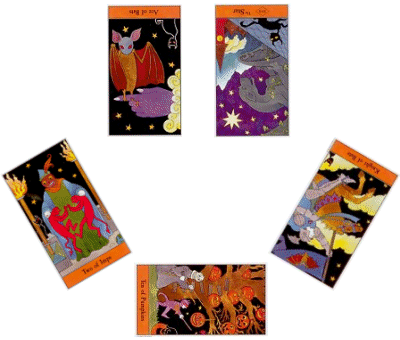 1. How am I tricking others? - Ace of Bats (Swords) reversed
I tend to downplay my intelligence, to let others take the credit for my ideas. I'm a lot more mentally capable than others think I am, particularly at work. I also act like a nocturnal creature who's happiest working nights, when I'd much rather go to bed early and get up before dawn.
2. How am I tricking myself? - The Star reversed
I worry a lot, particularly about money and finances, imagining our situation to be more hopeless than it is. I tend to over-budget or budget for expenses too far ahead of time, and to underestimate our income.
3. How can I treat others better? - Two of Imps (Wands)
This one shows a tall central figure acting as mediator between two fighting imps. By seeing both sides of an argument, I can help others find a common ground. This often comes up at work, with each department following their own agenda rather than working together as a team. My perspective as an auditor provides more of an overview of how they can interact and help each other.
4. How can I treat myself better? - Knight of Bats (Swords) reversed
I have a lot of ideas and tend to be all excited about them early on, but I also get bored quickly and have problems seeing things through. Rather than flying from task to task, I should allow myself to concentrate on one thing at a time - and finish things one task at a time.
5. How can I shine? - Ten of Pumpkins (Pentacles)
Focus on my family first. Take more time to play with my boys. The jack-o-lanterns on this card have a wide variety of expressions, which reminds me that I can show them it's okay to feel and to express their emotions. It's also okay to feel your way around, and to ask for help when you need it.
Hmm, interesting that both trick card came up reversed – another indication of internal blocks and self-imposed restrictions, perhaps. The only Major Arcana in the whole spread lies where I'm tricking myself, making it even harder to overcome.
---
Images from the Halloween Tarot by Kipling West, published by US Games, Inc.