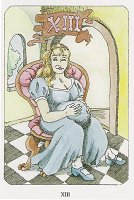 The Llewellyn press release for this deck states: "Inspired by the Mexican Day of the Dead, a holiday honoring deceased friends and family, this deck seamlessly blends Mexican tradition with European divination." I agree. More importantly, this deck also embraces mortality rather than trying to avoid all thought of the inevitable end of mortal existence.
As a shamanic deathwalker, I work with terminally ill people and their families. I see far too many families that have personified death into "Death" (capital "d" intentional) or the "Grim Reaper." In so doing they have acquiesced to the power death is thus allowed to hold in this culture. Some people even have trouble saying the word! Though it is an inescapable fact of life that we will all die, death (of either spelling) need not be feared. If instead of becoming phobic about that Reaper we can learn to love life, laugh often and live it to the fullest, that final passage can take place with much less angst for all involved.
Monica Knighton did all of the artwork for the deck and also wrote the little instruction booklet for it. Though it is brief it contains many nuggets of wisdom. In her introduction to the suit of Coffins (Cups) she has this to say: "As a vessel, the coffin is not solely a receptacle for the body, nor is a funeral a ceremony solely for the dead. A funeral is as much for the living to have closure and to express their emotions and to grieve. The coffin as a receptacle for the body, speaks also of the body as a receptacle for the soul." (p 13) Other suits in this deck are Pens (Wands), Pistols (Swords) and Reels (Pentacles.)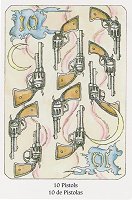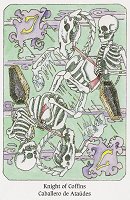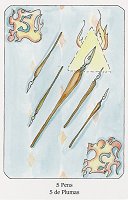 I suggest that this deck is one way to envision death as a non-diabolical, non-terrifying fact of life because in the Tarot of the Dead the absolute inevitability of mortality is expressed and vivified so beautifully. Gazing at the pastel water colors of the cards with their soft but edgy humor, fear can be left by the wayside. Death is acknowledged herein, but often in a faintly tongue-in-cheek way that makes the subject neither so forbidden nor so forbidding. The skeletons shown in all but one card are performing a variety of different activities, sometimes accompanied by skeletal animals, as is the case with the Fool's dog and the horses belonging to the Knights. Though dead they are fully engaged in life.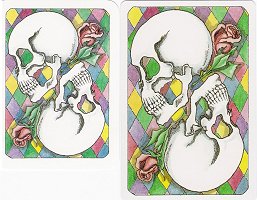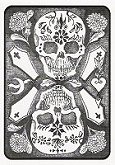 There are several differences between the original self-publication of this deck and the current Llewellyn release:

Size – In the original self-published deck the cards are 2 ¾″ by 4 ¾″. The Llewellyn release contains larger cards of 4″ by 5 ½″.

Card back – The original back was a black and white sketch consisting of two skulls, coffins and flowers which look like marigolds. Marigolds can be spotted in other cards as well which is highly appropriate as marigolds have been used throughout the ages not only medicinally, but for the consecration of tools of divination and in rituals for death and dying. The new Llewellyn back is taken from one of the extra cards in the initial publication and is two skulls and two roses on a multi-colored diamond shaped background. This skulls and roses card has been adopted as the card back for the new Llewellyn release.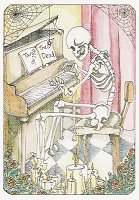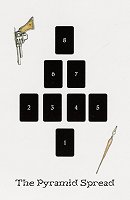 Extra card - The other extra card in the original version has been eliminated in the Llewellyn release. This is sad as the card is a wonderful overview of the deck, with a skeletal pianist playing the songs from Tarot of the Dead sheet music! He is surrounded by cobwebs, but also by beautiful flowers (marigolds again!) and white lighted candles of many different sizes. Had it been "reversible" this card would have made a great choice for card back, but it is not reversible and has been dropped in favor of spread cards in both English and Spanish.

Booklet – The original version contained a fold-out sheet while the Llewellyn version includes the traditional little white book (LWB.) The Llewellyn booklet contains information in both English and Spanish.

Coloration – The Llewellyn version of this deck is slightly more vibrant and a bit "greener." (See comparison scan.)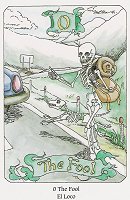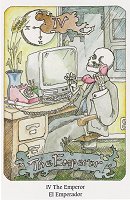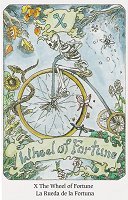 Some of my favorite cards are:

The Fool – Our skeletal Fool and his dog are shown hitchhiking. Definitely expresses the idea of unlimited possibilities and potentials, and in this day and age hitchhiking is almost as dangerous as jumping off the proverbial cliff.

The Emperor – This modern day Emperor is "enthroned" in his office chair. He sits in front of his computer, phone to his ear and with his eyes glued to the relentless clock above his head. A pragmatic ruler, he is himself ruled by time.

The Wheel of Fortune – At first I didn't like this card as I thought the skeleton's bicycle was a pretty "weak" wheel, but then I noticed that as this rider pedals his bicycle (free will) the seasons are revolving and changing around him (the inevitable cycles of time/karma.) I like this subtle double wheel concept. Also shown in the card are animals that reinforce this idea: Butterfly, a universal symbol of transformation; Dragonfly, signifying the dispelling of illusions; and Snake, symbolizing metamorphosis and necessary change. The Snake further ties together the idea of Death and the Wheel as he ritually undergoes death and re-birth every time he sheds his skin.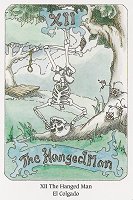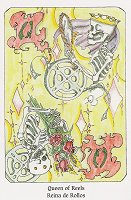 The Hanged Man – This depiction of the Hanged Man contains a skeleton hanging upside down with its own head/skull in its hands. He is not suspended from the gallows also visible in the card, but dangles near it. Talk about seeing things from a different perspective! The booklet says, "Suspended in self-contemplation, he catches his own head." (p 7)

Sun – This over bright desert Sun suggests both positive and not-so-positive interpretations of this card. I like that. Two skeletons sit hand-to-hand underneath the rays of a sun you can almost feel. Next to them lies a cattle skull bleached in the relentless light and heat. The truth can be blinding! The Sun can mean success, happiness, fulfillment ,etc., but it can also speak of sun burn and burn-out.

The World – Need I tell you that the four creatures commonly illustrated on this card are depicted as skulls? I like the fact the World dancer who most often holds a wand in each hand is this time clutching not two wands, but a violin and a bow. Her veil is affixed to her head with rosettes and she is dancing her way out… completed… and rejoicing…

Queen of Reels – This card made me chuckle immediately. The Reels, Pentacles in many other decks, are equated to Earth. In this card our earthy Queen is gazing into a hand-held mirror, concerned about her physical looks long after she is dead. Reels may seem like an odd choice to some for this suit, but the author says: "Just as our perception of the world is translated to us through our minds and senses, film reflects a composite perception of the material world." (p 18) Our Queen is a material girl.
I now have a second great themed deck for the Halloween/Samhain season. I thought the Halloween Tarot would be irreplaceable (and I still love it), but Halloween comes once a year and death can not be calendared.
In summation, I ask a question: What do you get when you have a themed RWS approach to the Majors, a quirky more Marseilles-like rendition of the Minors and a deck that many people, including Grateful Dead fans(!), would love? Tarot of the Dead. Try it. I think you'll like it.

---
Images from Tarot of the Dead by Monica Knighton, now published by Llewellyn, ISBN # 073870427X