It isn't often that you get to own a piece of Tarot's history in a way that is fresh, fascinating, and modern. That is exactly how I feel about my recent purchase of the Kingdom Highway Tarot. There were numerous aspects of the deck that drew me in, and after having the deck in my hands for several months - to digest its depth - I am happy to report my intuition was right. The Kingdom Highway Tarot, as its author John D. Williams says "really does have something for everyone." It isn't one thing that strikes you as you start to review the cards – it's several. To highlight the depth of meaning within the deck, I have focused on two of the more interesting aspects of the deck including key comments from the deck's creator John D. Williams during our July 20th 2006 interview.
Use of Universal Icons and Themes
One of first things you notice about the Kingdom Highway Tarot is how it is filled with universal iconic themes portrayed through modern abstraction. What makes John's art so unique and compelling to view is the "hand-drawn renaissance" tenor adding a sense of the eternal. John's cards look modern by their use of abstraction, but feel both fresh and historical. This delicate Ying/Yang balance comes to you as "fresh" from its theme-based storylines, clever use of color and the emotion of the characters. At the same time, the deck conveys a sense of antiquity and mystic tradition through its use of universal icons and references to various sacred traditions.
Stephen Schwartz: "John, your deck conveys its messages through your unique use of abstraction, but it is also filled with a sense of antiquity and tradition – how did you achieve this unique style?"
John D. Williams: "That was a very deliberate motivation I had when creating the deck. Within my Little White Book you'll see a sample of my regular artwork – and it is even more abstract. For years I have been working on this – abstracted antiquity – to be able to create a renaissance kind of picture using modern type strokes. I remember telling my art professor that this was a style I wanted to perfect. He thought I was nuts!"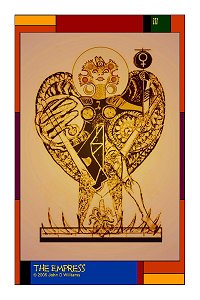 SS: "Well, you've certainly proved your point by capturing the imaginations of everyone who's seen this deck. It's very captivating. Could you explain your use of icons within one card that really spoke to me – the Empress?"
JDW: "There is a double image within the Empress. When you look at it from one way and connect the legs to the body – you will see the scepter of Venus, a fertility symbol. The Empress was where the cards really began to take a life of their own. What I really like about this card is the sense of feminine strength and how I used that throughout the deck."
SS: "Could you expand on that thought?"
JDW: "Overall, feminine strength, energy, and sexuality were important themes in this deck and was by no means derogatory or exploitive. The sexuality and authentic power of women are things that come together throughout the deck. In the Empress, it wasn't just a sense of fertility with the phallic symbol of corn suggesting the potential for union - but you can see by her proud expression and the way she is sitting – she is by no means second fiddle to the Emperor. They are equals where she is like the crown to the relationship between the two of them. If you put the two cards side by side you will see the Emperor is looking at her, and she is looking up. They are a couple, but it is Empress that touches the Universe. The male represents the rational while the female represents intuition and is boundless. It is like man puts the blocks together, but it is woman that forms a vision for what those blocks mean."
Layers of Translucent Symbolism
Another totally fascinating aspect of the deck is its use of layered or translucent drawings within several of the cards. Additionally, the deck seems to take on different meanings depending upon the angle you view it. This is very unique to the Tarot and something I found quite effective for meditation and intuitive introspection.
SS: "Something quite unique to your deck is how if you loosely gaze at the deck, some images, concepts will suddenly pop out to you. I also noticed that the cards seemed to take on different meanings depending upon the angle and their distance away. This struck me as quite unique and powerful for someone wanting to use this deck for meditation or intuitive purposes."
JDW: "That has actually been a hallmark of my art – at all stages - whether it has been highly abstract, or relatively illustrative as the cards are. That is - one glance is not all that it takes. I am pleased that the drawings, whatever their nature, are compelling enough for people to spend time looking at them and to allow those images to emerge and come out. I like to have a picture work on multiple levels – meaning even in the link of how far away somebody is. I want the picture to have a sense of what is it from across the room, from the middle of the room, including all the way up to your nose. One of the artistic appeals of creating a Tarot deck is the fact that people actually look at them. It is not something that people just glance at - it is something that people attend to. Speaking as an artist, the Tarot has terrific potential for depth and detail – people are going to pay attention to them – and in different combinations. Now, they were built to go in a certain order. They were built like a book and when they get shuffled up, they turn into a new book each time. That concept was very appealing to me."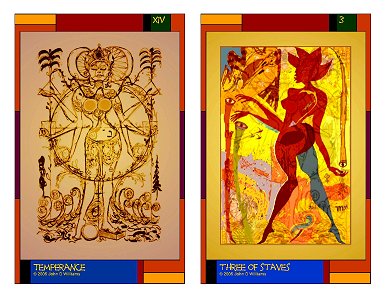 SS: "John, I was looking at the Three of Staves and suddenly, another image in the background just popped out of nowhere. I sensed lots of spiritual energy in this card. What inspired this quality and what was your purpose behind it?"
JDW: "There is a link between Temperance and the Three of Staves. This is a common theme. Within each of the minor suits there is a cameo appearance of an aspect or detail from the majors. For example, if you go to the 10 of Cups you will find the Star in the lower left hand corner. In Temperance, I have always been attracted to Asian art, Hindu and Buddhist art. One of the purposes of this deck was to be ecumenical in the use of the term - temperance. My intent was that the holiness throughout the world was going to meet throughout this deck. It seemed like a perfect moment to allow that to happen within the Temperance card - because of the beautiful benign spirit temperance represents within so many of the world's religions."
To highlight the mixing of cultures and traditions, John went on to share that a direct model for the Temperance card can be found among the sculptures at the Kimball Art Museum in Fort Worth, Texas.
What was a total surprise was how the deck's "Little White Book" is fascinating reading full of references, the author's creative inspirations, and vignettes into Tarot history. It's the first time I have ever taken notes from a deck's LWB and felt compelled to immediately research the references provided. After reading the Kingdom Highway Tarot's LWB, you'll feel like you just received a fresh viewpoint on the history of the Tarot in a fun and exciting way.
If you are interested in a deck that is full of symbolism and messages on multiple layers and from different perspectives; a deck that is beautifully drawn with a renaissance theme, but using modern abstraction – this deck is for you. I have found it extremely powerful for meditation, intuitive introspection, and as compelling art that captures the attention and imagination of all who see it. This first edition is lovingly and beautifully hand made and includes a personalized dedication card from the author, John D. Williams, including the number of your edition. The Kingdom Highway Tarot is sure to become a collectors' item.
---
Stephen's motto of "Clarity, Focus, and Confidence" has served his hundreds of clients well as he has been reading Tarot since age 13. An Intuitive Coach, Certified Professional Psychic (AAPP), Certified Professional Tarot Reader (TCBA), Senior Reader on the FTN, and past mentor of mentors for the FTN, Stephen has been helping people the world over on a professional basis since 1999. Stephen's specialty is aligning intuitive / psychic guidance with your true Intentions and Goals for bringing needed change and blessing to your life. Learn more about his practical intuitive approach to helping others at http://www.InnerAngel.com.
John D. Williams has a Bachelors Degree in Fine Art, a Masters Degree in Social Work and is a Licensed Professional Counselor. He has an abiding interest in the life of the mind, the imagination and the art of the self. He is fascinated by the tarot in its ability to transform itself with the times and still retain an essential character. He believes the tarot fights its own battle across centuries to sustain itself, finding the creators who may best define it. He hopes he has been chosen but only time will tell. Learn more about his deck and art at http://www.geocities.com/precisechance.