By Terri C.
The Insight StoryTM Card Set with Guidebook, created by Randy Compton with Artist Tania Henderson
Published by Think-a-lot Toys
ISBN: 978-0-615-37018-7
From the creator of Think-ets (small pouches of every day miniature items) that many of us have used as a jumping off place to build our Junk Oracles, comes a unique alternative to the Tarot. This is a 90-card deck with a 272-page guidebook. The set also comes with a royal purple velvet draw-string bag. The deck itself is made up of everyday symbol cards and is designed for personal exploration.
Upon opening the package, there was a heavy chemical smell, but that dissipated quickly when left exposed to air. The deck was divided in half and shrink wrapped and packed in insets inside the box. There are perforation marks on both sides of each card, which feel give a strange feel to shuffling.
The cards themselves are poker deck size, they measure 2 ½ inches wide, by 3 ½ inches tall, which is works nicely for those with smaller hands. The cards have a narrow purple border, with the title for each image just above the border on the bottom. The card backs are not reversible friendly as there is a copyright written across the bottom. The card backs are purple with purple, yellow, white and orange lotus flower design. The cards are made up of a flexible cardstock, with a shiny lamination. Those who are used to working with larger decks may have a bit of a challenge shuffling this deck at first.
There are 88 illustrated cards (the same number of keys on a piano), along with 2 wild cards. The cards are broken into the following categories: People, Animals, Elements, Power, Love, Journey, Skills, Creations, Nature, Food, Symbols and Wild. Some of the card titles include: Eagle, Bread, River, Fire, Key, Cocoon, Chain, and Storm.
The imagery reminds me of the Lenormand-style decks. The art work, which is very attractive and very realistic, is done in colored pencil.
The Guidebook gives four different ways to work with the deck: choosing one at random, a 3-card spread, choosing by attraction and what Randy calls Pick Share (where you pick 2 or 3 cards with a friend). The Guidebook has full size black and white copies of the images, along with insights for each card. There are also blank pages at the end of the Guidebook, for you to journal your own insights.
Using the deck to do a 3-card Past, Present, Future Spread, I pulled the following: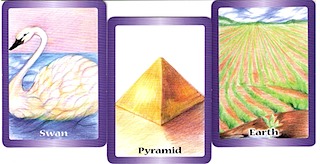 Swan, which features a beautiful full grown swan floating gently along smooth water, with a soft pink skyline in the back ground. Keywords for this card include: serenity, grace, enduring love. An excerpt from the book says "If the Swan has floated into your consciousness, consider yourself blessed by something serene and beautiful, and let its grace and beauty enter fully into yourself."
Pyramid, which features a gold pyramid, with one side shadowed and the other side gleaming in the sunlight. Keywords for this card include: primordial mound, ancient wisdom, sacred site. An excerpt from the book says, "Perhaps it's time to make a pilgrimage to your special place of power to gain a little ancient wisdom and focusing power for the road ahead."
Earth, which features rows and rows of newly sprouted plants, in what seems to be an endless field, with a partly cloudy, blue sky. Keywords include: foundation, groundedness, fertility. An excerpt from the book says, "You may benefit from being more stable and taking fewer risks."
The layout of the Guidebook, takes a little getting used to, as you need to use the Card Index in the back of the book or look up the category to find the card you are looking for and then flip through the pages as the cards are not alphabetically organized in the book. Some of the pages also have a few light creases in the paper.
In addition to personal insights or divination this deck could easily be used for brainstorming, creative writing, plot or character development, or dream interpretation. It might also prove to be a fun deck to use to play the game Highway Man.
This set would make a nice gift for someone who has shown an interest in reading cards, but might be a bit hesitant to try a standard type of Tarot deck.