Note: The following mini-overviews are by no means full reviews. For full reviews of these offerings I recommend Tarot Passages (www.tarotpassages.com) or Aeclectic Tarot (www.aeclectic.net)
Liber T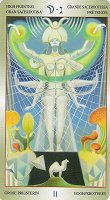 I confess to having harbored a certain pre-conceived bias against this deck before I ever saw it. I admit now, in spite of that bias, this deck is truly intriguing, and far better than I thought it would be. So much for pre-conceived notions, huh?
I will state frankly that I do not think you can "improve" on the Thoth deck as painted by Lady Frieda Harris and that I cannot conceive of a better reading deck than the aforementioned… but , that having been said, I think this deck merits the same second look I granted the Magickal Tarot and the Light & Shadow Tarot before it.
Why do I mention those two decks, you ask? Good question. The reason is because they are to the Thoth deck as the Hanson-Roberts, Robin Wood, Connolly, and the host of many more before and after them, are to the Rider-Waite-Smith deck. They are commonly referred to as clones, though I feel the term derivative is much more appropriate.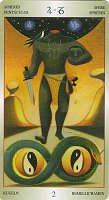 The LWB for this deck states that the Thoth deck is "in part inspired" the Liber T Majors as well as "some symbolic content."… hmmmnnn.. Partially? I think the Thoth deck was more than a partial inspiration. This deck is Techno-Thoth, a modern rendition of the familiar classic. But nevertheless, I enjoy playing with Andrea Serio's rendition. Serio's talent is undeniable, and his version of this deck is provoking, at the very least.… Will it ever replace the Thoth deck? Never! Does it improve upon the Thoth deck? I can only answer that with another question, "Is improvement necessary to make this deck a good deck in its own right?" I'll leave the answer to you.
Most tarotists don't flinch when yet another RWS clone (derivative) is introduced to the tarot market. Nary an eyelash is fluttered and the world does not stand on its ear. Initial biases laid aside, I confess that I have enjoyed working with this deck. Every time I hear Uncle Al snarling I get a glimpse of lady Frieda Harris lifting an eyebrow yet applauding this complimentary take-off on her artwork.
My advice: Set aside your biases and preconceptions and just work with this deck. You may surprise yourself.
Golden Tarot of the Renaissance (Tarot de Estensi)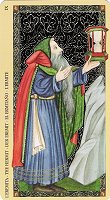 Oooooh…. Aaaahhhh…. Need more? Oh, all right… This deck is gorgeous! And I realize that "gorgeous" is a pretty subjective label and that I may have to amplify my drooling a bit. Let's begin by saying that these cards are done in gorgeous watercolors and finished in gold leaf. The cards are exquisite. This is a thoroughly modern deck, complete with vivid colors, but based on old designs. It is at times romantic and nostalgic, and at others whimsical and satirical. Amazingly enough, the mix works.
I have to say is that I am amazed at the way Jo Dworkin's cards mesh with the sparse sixteen surviving cards, misnamed as they may be as the Charles VI Tarot (also known as the Estensi) or The Gringonneur Tarot . In most cases I feel that Dworkin's cards mesh effortlessly with the few remaining original cards. Unless you know in advance which cards are originals you would be hard pressed to point them out.
There are many little differences in the scenes on these cards as compared to decks done in later years. I miss the Fool's dog, but I love the braying two-legged donkey on the top of the Wheel ascending with the mottos "I will reign." In card fifteen, the Devil is clad in shorts and wears a mask.
I have used this deck in readings for many weeks now and it reads well.
The Fairy Tarot (Book)
I am so glad that Lo Scarabeo has come out with another book for one of their decks. Lo Scarabeo creates some of the most beautiful art decks you can get today. Wandering through a Lo Scarabeo catalogue is like a visit to an art museum. You may not like all of the paintings, but you will emerge moved and feeling that you have communed with your artistic muse.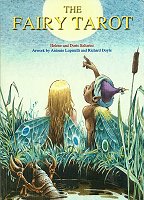 My main quibble with this book is: Why THIS deck? With their first book to go along with the Fey Tarot , Minetti, et al penned a masterpiece. It was a great (howbeit late) entry into the world of Tarot books. Perhaps they are stuck on the fairy theme? Who knows. The Fey Tarot gave us a good look into the land of the fey, but this book is a poor second.
I am guessing that Lo Scarabeo has produced this book because the Fairy Tarots is one of its long time best sellers. I understand the logic, but feel that it would behoove them to produce books for those decks that are poor sellers simply because they so desperately need a book to accompany them! I'd love to see books for the Dante Tarot , the Tarot of the Origins, and the Comparative Tarot deck, to name a few. (Okay, I admit I'd really love to write the latter two books! What can I say? I'm honest, and I haven't been shy since the age of five.)
The caliber of the Fey Tarot book shows me that Lo Scarabeo has what it takes to produce good books to go along with their decks. So how about some material for the decks that could really use some verbal amplification?
Now onto the nitty-gritty. This book is a poor second to the one for the Fey Tarot in all respects. The book in many instances lists meanings for the cards that simply do not match the picture on the cards. I find that discordant to say the least.
I am happy that Lo Scarabeo is venturing into the Tarot book market… I just hope that they will consider offering books for those decks that they have produced that really need them, and that they will be of comparable to the superb book released earlier for the Fey Tarot.