The Los Angeles Tarot Symposiusm (LATS) will be held on September 24, 2005, at the Ayres Hotel & Suites, 325 Briston Street, Costa Mesa, California (near the John Wayne Airport in Orange County). Registration in advance is $80 (at the door, $85) for the all-day symposiusm. The theme of the day is the "Return of the Queen: A Tribute to the Queen of Swords." The day includes Tarot vendors, an extensive bookstore presented by the Crystal Cave Bookstore (sponsor of the meetings), a buffet luncheon with the now-famous LATS chocolate cake, and door prizes.
More than 15 Tarot experts and authors or teachers, many of whom are ATA members, will present material, including: Mary K. Greer, Mark McElroy, Thalassa (producer of the Bay Area Tarot Symposiusm), Joseph Ernest Martin, Barbara Shiffman, Yolanda Robinson, Joan Deniken, Lon Milo Duquette, James Wells (from Canada), Art Rosengarten, James Ricklef, Lorrie Kazan, Susan Schultz, Jim Schultz, Leslie McCallister, and Sandra Thomson, President of ATA.
Award-winning producer Matthew Kallis is producing a documentary about divination and Tarot for theatrical release. (See below for more info.) For those not interested, private (unfilmed) Tarot readings will also be available.
For more information contact Barbara Rapp at barbara@crystal-cave.com or by phone at (714) 734-8626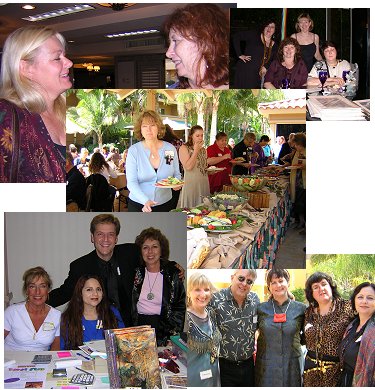 LATS 2004 - Tarot Goes to Egypt
---
Tarot Documentary - Casting Call
Matthew Kallis is producing a documentary about divination and Tarot for theatrical release. He is seeking people to participate in the filming of Tarot card readings at the L.A. Tarot Symposium. He is looking for both Readers and Querents (Clients). Participants will be taped during the card readings and will be interviewed on film afterwards.
About the Tarot Documentary Project
Three years in the making, the Tarot documentary project includes material filmed on location in Europe, as well as scores of interviews with scholars, artists, writers, card readers, witches and others in the Tarot community both here and abroad. Through the rich imagery of Tarot cards, this film explores the historical, cultural, psychological and spiritual aspects of divination - one of man's oldest and most popular mystical practices.
About the Filmmaker
Matthew Kallis is an award winning, Emmy nominated producer. After graduating from MIT and Columbia University, Matthew spent twenty years on Wall Street and working in the business world before returning to his home in California to become a documentary filmmaker. Matthew is currently completing a documentary project about divination and the Tarot for theatrical release next year.