Valerie Sim serves as the VP of Communications for the ATA. She received her first deck of tarot cards 32 years ago and began studying astrology in 1973. Both have continued to be passions for her over the years and have led to the authorship of her own tarot and astrological teaching materials, with which she has been an online teacher for the past year and a half.

Valerie is the Listowner of a popular tarot email list, Comparative Tarot, a list which is populated by tarot students, readers, teachers, authors and artists. Her book about the Comparative Tarot method and ways to keep tarot fun and exciting, Tarot Outside the Box, is due out from Llewellyn in 2004. She also wrote the pamphlet, or "little white book," for the recently published Lo Scarabeo Comparative Tarot Deck, and is the Editor for both Tarot Reflections and The ATA Quarterly.

On the shamanic path and active in animal rescue, Valerie has many favorite decks including Animal-Wise, Vision Quest and Shining Tribe. She is currently writing her second book, Shamanic Tarot.
This spread is dedicated to all those that are tired of the "Does Mikey love me?" or "Am I pregnant?" spreads and are looking for a relationship spread that is a bit more meaningful. I have ethical problems in reading for those questions and so sought to create a better widget. Though there are many so-called wedding spreads, I felt there was a need for a spread that did not dictate marriage, yet did honor the commitment of two souls pledged to each other and who wish to travel together on a dual journey of discovery and growth.
Though I am not an expert on relationships, I firmly believe that the best relationships are those in which he, she, and the relationship itself all grow, both individually and in tandem. I consider the relationship itself to be an entity and believe that forgetting that can be a huge mistake. She needs to grow into herself, he needs to become the man he was meant to be, and together, if they are mutually dedicated to the union and are willing to work on it, the relationship should mature and blossom. Well, that's my theory <g>… and the premise upon which this spread was based. (The choice of pronouns used herein is conventional, but by no means judgmental, and this spread works equally well for he/he and she/she relationships.)
I conceived of this spread as I was stuck in traffic on the way to my daughter's wedding rehearsal dinner. I live and breathe Tarot, so such Tarot "birthings" are not unheard of in my life. I have documented spreads on napkins, paper bags and the back of grocery receipts. This particular spread was first drafted on the back of the ATM withdrawal slip I received when securing travel expenses and necessary cash for the wedding itself… and as I sat in the parking lot formerly-known-as-Highway-50 on a busy Friday afternoon commute. I didn't realize until I got home that the spread formed a natural heart. I considered that a nod from the Universe as I recorded the spread and forged on to work with it.
Out of respect for their privacy I will not publish the reading I did for Tiffany and Paul, but I would love to get feedback from those who find this spread valuable for themselves.
Here are the spread positions:
Her
1 – Her basic soul self now
2 – Pressing issues, positive and negative
3 – Her gift from him
4 – Her gift to him
5 – Personal soul growth necessary for her
Him
6 – His basic soul self now
7 – Pressing issues, positive and negative
8 – His gift to her
9 – His gift from her
10 – Personal soul growth necessary for him
The Relationship
11 – Snapshot of the infant relationship
12 – Bond/the karmic tie that binds
13 – Lessons for relationship growth
14 – Lessons for relationship growth
15 – Lessons for relationship growth
16 – Blessing for the future (Note: This card can be indicative of a wonderful experience / lesson or of one that is viewed as negative at the time, but either way it will ultimately be realized as beneficial.)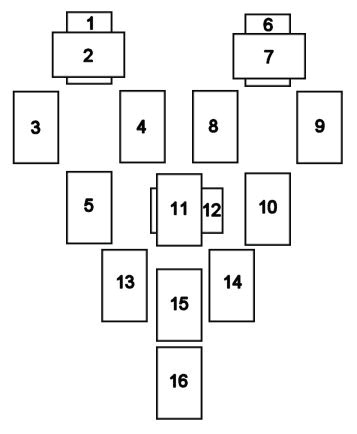 ---
© Valerie Sim 2004