There are numerous tarot decks available now, covering a bewildering array of themes from the exquisite to the absurd, serving the varying tastes and preference of a diverse tarot community. So while there is presumably always going to be room for another theme, style, or variation, I personally did'nt want to produce just another deck. But on the other hand I did want to try and inprove on the Gilded. While I was very satisfied and somewhat surprised that the Gilded was as well received as it turned out to be, from a personal perspective it did nevertheless leave me feeling that I'd like to produce something deeper.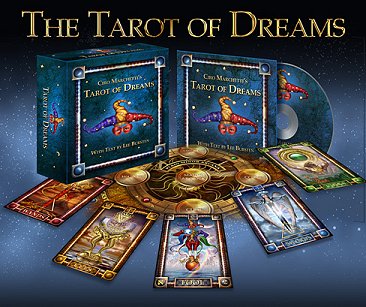 I was comfortable that I could achieve that visually, but was aware that my limited knowledge of the subject would'nt do justice to what I was conjuring up in my head. To resolve that, I initially played with the idea of inviting a number of leading figures in the tarot world to each write the companion text for a selection of cards. But I soon realized that any such "Dream Team" collaboration would most likely lack an overall cohesion to bind the deck together. So instead, after a number of communications, I decided that Lee Burtsen was the right choice.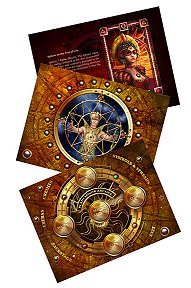 His tarot credentials were unquestionable, and he had a reputation and credibility within the community, all of which I lacked. But most important of all I felt confident he would work with my images and not try and impose his personal take. He understood that I would be breaking some rules along the way and was okay with that. After all, he has a tarot reputation to consider whereas I didn't. But by the same token he would also be constantly available as a sounding board for some of the more extreme ideas I wanted to try or if my images strayed too far of the track without some tarot rational for doing so.
The more familiar I became with the subject and by listening in on multiple forums, the more I became aware of the role a tarot deck filled as a vehicle for meditation as well as for readings. This intrigued me, and was very much the basis for considering the idea of a companion CD as opposed to the usual book. The medium would allow me to introduce a number of features which I believe are unique to the tarot genre such as the animated cards. Having said that, the pdf format guidebook included on the CD is a comprehensive and eloquantly written document by Lee, of over 130 pages. Which should not be considered in any way as being lesser than the more traditional hard copy.
Its also important to emphasize that despite the various extras, the physical deck is still the main feature, but the CD is'nt simply a novelty support act either. It compliments the deck certainly, but can also be used independently. I've strived to reach a balance throughout. Animated cards, music etc. are there to enrich the experience, but do so without distracting from the basic function.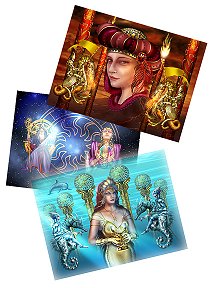 It will be no surprise I guess to admit that my main emphasis has been from a visual perspective. It is also a given that the tarot community being as diverse as it is means the Tarot of Dreams will not appeal to everyone's taste, but during the production process I welcomed feedback from those on my mailing list, and indeed on various points have made modifications based on that feedback, modifications both to the images of specific cards, and to the physical characteristics of the deck itself i.e. there will be two versions of finish. One version uses standard card thickness with a matte finish, the other is slightly more rigid with a high gloss varnish.
One thing for sure, it's been the most demanding project I've ever worked on, but it's finally complete. In my own mind I've achieved what I set out to do. As with anything new it comes at a risk in terms of its acceptance by the audience, so I send it out into the world with anticipation and fingers crossed.
For more information on Tarot of Dreams or to order your copy, please visit my website.