Image Elements:

1. Background: Sunset (personal photo)
2. Painting: Apollo and Daphne, by J.W. Waterhouse
3. Artifact: 14th-century Rowel Spur (Metropolitan Museum)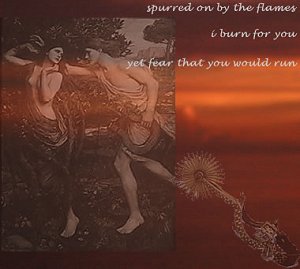 As powerful and determined as the King of Wands looks, and as playful and mischievous as he might be, he also seems resigned to the isolation that comes from his great potential. When the need arises, the King of Wands can be very stern, and anyone under his protection has his unconditional loyalty. The responsibility of being a Master of Fire can be overwhelming, and our King can sometimes feel more than a little dangerous as he goes about his business among the world. He needs to balance his deep creative passion with a sense of humor, but in doing so often ends up hiding behind his own wall of fire. He knows he appears intimidating, and that he often scares others off with his outbursts and the sheer heat of his personality; how others see him, and the idea that they might fear his power, keeps this King from letting his guard down. He is generous to a fault when it comes to others, but often denies himself the same happiness and pleasure. His passions run deep, and he believes he needs to hold himself back so he won't scare the object of his affections.
The story of Apollo and Daphne, shown in the illustration, seems very much akin to the King of
Wands. Apollo is a sun god, all-powerful, but unquestionably vulnerable in his pursuit of the nymph Daphne. She knows his strength and reputation, and she runs from him. So much does he want her, however, that he turns her into a tree, rooting her to the spot. From this tree will come the laurel crown he will award future victors in wars and contests. His expression as he pursues her is desperate, pleading, and determined. He knows that Daphne will not have him because of what he represents - the searing power of the sun -, but he also knows he cannot give her up to someone else. Once the fire has started down its path, it will consume everything it needs to survive. And even the King of Wands, in all his balance and mastery of the element, knows better than to place himself in the way of the flames.