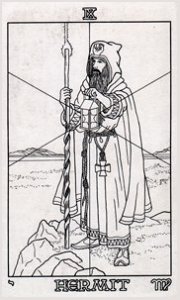 There are many decks claiming to be Golden Dawn decks. The Tarotist who is also a student of the Golden Dawn system has had no scarcity of decks to choose from. However, what has been lacking, for many, is a deck that combines detailed Golden Dawn symbolism with quality artwork. At last, there is a deck that satisfies both of these requirements. The Classic Golden Dawn Tarot Deck by Richard Dudschus and David Sledzinski was designed under the guidance of Pat Zalewski. This deck was twelve years in the making and is based on the deck that Mrs. Felkins used in the Whare Ra Temple. It is a black and white deck, to be colored by the individual. You can see sample cards at http://www.classicgd.bigstep.com.
In size, it is slightly smaller than the large BOTA deck, slightly larger than a typical Tarot deck. It is a full 78-card deck, although the 2s-10s are pips, not descriptive pictorials. They do have astrological correspondences printed on them, and some of them are evocative without being pictorial. The card stock is heavy and should hold up well to use and to coloring. However, if you color yours with markers, there will be some bleed-through. (You'll want to put protective sealant on them after coloring.) The backs are bold and lovely, with a design that was on the backs of the Whare Ra decks.
The artwork is very professional, very clear, very crisp. The symbolism is carefully thought-out and executed. In quality, it is comparable to the large black-and-white Majors-only BOTA deck, but the images are quite different for the most part. The images resemble somewhat the Golden Dawn decks by Wang and the Ciceros. For example, the Fool card has an infant with a wolf and a rose bush.
The Aces and Court Cards are very nice. My favorite card is the Hermit who is manly and vigorous. This is a mature man who showed great strength in climbing to the top of the mountain top. The Qabalistic symbolism shows in the hand on his hood. (The Golden Dawn attributes the Hebrew letter yod, meaning "hand" to the Hermit.) Small details like this are scattered throughout the Major Arcana, making this a useful deck for study and meditation. The Hanged Man, Death, and Temperance are also favorites.
For right now, the deck ships solo, but coloring directions will be made available later. It is being published as a signed, numbered, limited edition deck of 1200 copies. My deck arrived wrapped in purple tissue paper closed with a gold seal and in a navy-blue net bag. In addition to the 78 cards, and signature card, I received a Tree of Life card, a list of correspondences for the Majors, and a title card, featuring the Hermit.
The decks are $35 US each, plus shipping and handling. I consider my $35 very well spent.