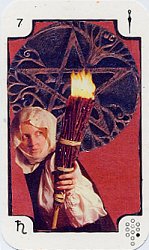 I first learned about Kimberly Fordham's lovely Toscano Tarot via Tarot Passages and a dear friend who seemed to make finding unique self-published decks a personal quest. After reading Diane Wilkes' review of this wonderful deck and listening to my friend's raves, I decided to email Kimberly and order a copy. She created this beautiful and insightful collage deck using images from the Toscano Catalogue (which I'd never heard of before this). I cut the cards, laminated them and voila - a deck is born. Each time I use these cards I am awed by the readings I get. Although it can be easy to get lost in the details I always find something that seems to ring clear as a sign. Some friends and I even played with this wonderful deck at a restaurant and ended up attracting some interested folks from the wait staff, one of whom asked for a reading.
So without further ado, ladies and gentlemen may I present Kimberly Fordham.
DL: What first drew you to Tarot?
KF: From the very first there was something fascinating and magical about the cards to me. I loved the way that one card could capture so many facets of life; how much depth there was in all the details, and the myriad stories those details told, all without a single word. And the cards are never static, the cards seemed to evolve right along with me. I fell in love with the tarot thirty years ago, and every single time I pick up a deck I see something new….that's exciting to me! Tarot is many things, but it's never boring.
DL: Do you read or collect decks?
KF: I used to read for others; now I mainly read for myself when I feel the need for insight and guidance. I enjoy exploring the mythologies of tarot, and comparing and contrasting different decks. I always like seeing something from another perspective, examining a situation in a different light. I'm definitely a collector; I have around 700 decks. For me, it's all about the variety and the discovery.
DL: What inspired you to create your deck?
KF: Desperation. The Toscano Tarot was actually my second deck, although it was my first attempt at collage. I really wanted to try my hand at expressing what tarot means to me, but I can't paint or draw. At all. I couldn't find anyone with artistic talent who was interested in translating my personal vision, so my first deck ended up being comprised entirely of Susan Seddon Boulet's artwork. That's the most frustrating thing; it's not only illegal to use someone else's copyrighted artwork, it just isn't right. At least working with collage doesn't feel so much like wearing somebody else's underwear.
DL: How do you feel your personal & spiritual beliefs impacted on your deck?
KF: As I worked on the deck, I found that certain cards surprised me. They were completely different in their finished state than what I had envisioned. But that's part of the whole experience; letting the cards take you wherever they feel you need to go. There's a lot of my personal spirituality in the Toscano; a blend of earthiness and take-aways from many different paths. It's a very personal thing to hold the finished product in your hands, because it's really The Story of You, with all its warts and blossoms.
DL: When you began creating your deck did you have any intention of publishing?
KF: No. I knew that I never could because of copyright issues. It's a very serious thing to appropriate artistic images that belong to someone else; it's illegal even if you don't intend to market the decks and make a profit. I made very few copies of the deck available for that very reason. Once you compile a collage image, even though the collage itself becomes a "new" work which is automatically copyrighted by the creator, permission is still required for the use of every single image. It would take a mind boggling amount of cataloguing, phone calls, and fees to do it right.
DL: How have your ties to the Tarot community (online or in the real world) impacted on your creation of this deck?
KF: I started online back in the Tarot-L days, and met so many fun and interesting people. It's a gift to have the opportunity to participate in a community of like-minded people, most of whom you've never met, but who all somehow seem like family. I've since been to a few symposiums and tarot gatherings, and it's just the greatest to finally hang out with some of the gang in person. I "listened" to a lot of online discussions among others who had either already created, or were in the process of creating, their own decks. I didn't know the first thing about cornering and laminating! Arnell Ando and her site were both immeasurably helpful. It's like having a baby when you create a deck; the online tarot community is one huge baby shower. Everyone wants to know how things are coming along, what they can do to help, and if you've picked out any names yet.
DL: What other Tarot decks are you drawn to?
KF: There's something unique and intriguing about every deck. I've always loved the Rider Waite Smith and it's many iterations. I've spent hours comparing different versions and delighting over little idiosyncrasies that no one else in the world would even care about! Marie White's artwork in the Mary-El Tarot is exquisite. I work a lot with Alexandra Genetti's Wheel of Change Tarot, and I love her collage deck, Jumbledance, and Arnell Ando's Transformational Tarot as well, to name just a few.
DL: What advice or suggestions would you give to others out there interested in creating their own deck?
KF: If you can't draw or paint, find another medium of expression that works for you. Collaborate with someone else creative. Don't use existing artwork without permission. Obviously, if you're making a collage deck like the Toscano, which was culled mainly from mail order catalogs, you shouldn't be selling them on Ebay. Go with the flow. The end result may surprise you, but it definitely won't disappoint you. The most important thing of all is to stop waffling and just roll up your sleeves and get started!