From the moment I held this deck in my hands, I loved its energy. Kessia Beverley-Smith did an amazing job on this US Games, Inc. deck. She has mixed watercolor and photo collage very well. She stayed true to the Rider standard and provided enough imagery on each card that I found it very intuitive. The artist has given a choice as to which element applies to the suits of Swords and Wands. On the Swords we find a winged imp, red with fire, then on the Wands we find winged fairies and wands lit like fire. Dwarves represent the element of earth on the Ring cards while Water nymphs greet us on the Cup cards. As is common with nymphs there is some nudity on the Cup cards and some of the Majors. When we search out the Court Cards, we find the honors are Lady, Knight, Queen and King.
To take a deeper look at the Forest Folklore, I sat down and dealt the cards. My question was "Tell me about yourself." The layout I used was a Pentagram, placing the cards at each star point as you might draw it.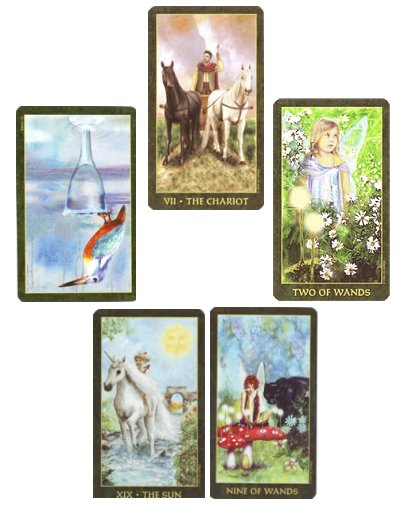 In position 1, my question was "What wisdom do you have to share?" The Forest's answer was the Sun card. The child astride a unicorn tells us of joy and wisdom. They are splashing down a creek bed with a garden gate or doorway behind them all being watched by a smiling sun in the blue sky. This card tells us that the deck is ready to harness the earth's energy and share its mysteries with us.
Next I ask, "What will you bring to relationship spreads?" The answer I receive is the Chariot. We see the familiar image of a man in a chariot being lead by a black and a white horse, each of which wants to go down a different path. "Choices" is what this card echoes in answer. "I will give choices and information to make decisions in my relationship spreads."
The third question I asked was "What will you bring forward when the query is about business?" The Nine of Wands responded. Our elf sits on a mushroom looking at her nine wands, she is unaware of the black cat that is about to pounce. "Warning is what I will bring you, the information you need to know to watch your back."
"What is your overall message?" was the fourth question. The Ace of Cups reversed was the card that came forward. Each of the Aces features a member of the animal kingdom. Here a kingbird sits on top of a glass cup that is sitting in water. Because this card is reversed, our answer is "I can keep my emotions in check and help you with clear answers."
The last question was "What is your overall energy?" The Two of Wands called out "I am ready to advise you." The image on this card is a fairy with the face of a small child. She is standing in a field of white flowers and is wide eyed with the beauty around her. Two brightly lit wands made of flower stems are in the forefront. The artist used photos of friends and family on several cards and this little girl is enchanting.
I have used this as my main deck for about a month now and have found it easy and intuitive to read with. This is Kessia Beverley-Smith's first tarot deck and I hope we see more from her in the future. If you would like to see six of her cards as they appeared in the initial drawings, follow the Watercolor sign on her site's signpost.
---
The Forest Folklore Tarot (ISBN: 1-57281-475-6) by Kessia Beverley-Smith is published by US Games Systems, Inc.