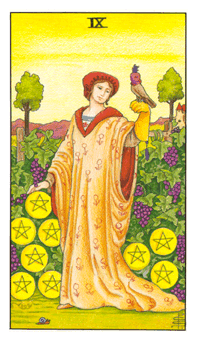 In a fruitful garden, a fine lady trains her falcon. Many connect the Nine of Pentacles (and the patient, painstaking snail in its lower left corner) with the practical work of being trained or training others.
The Nine of Pentacles, from the Universal Waite Tarot, copyright U.S. Games. Used by permission.
Purchasing Courseware is Fast and Easy.
Through our partnership with PayPal, you may purchase your courseware using Visa, MasterCard, or your existing PayPal account.
---
ATA 100-Level Courses - Includes all five 100-level lessons!
---